After you have visited Montenegro for the first time, the idea of coming back starts chasing you like a persistent website ad.
Only, it's a FEELING you don't want to get rid of.
You asked for a vacation, but you got so much more. A sense of home. Yes, this could easily be just a seller's phrase, but facts prove that it isn't. In recent years, the regulatory framework in Montenegro addressed changes in various laws that facilitate many procedures for foreign citizens, regarding buying real estate in Montenegro, starting a new business, obtaining a residence permit etc.
Montenegro is open to foreign investors. According to the 2018 World Bank Economy rankings and index of ease of doing business in 2017, Montenegro is on the 42nd place (out of 190 ranked countries) with continuous positive improvement over the years.
Real property tax goes from 0.25% to 1%.
Montenegro is a signatory to the Treaty for the Prevention of Double Taxation. Double taxation agreement has been signed with 41 countries until now (w/ Russia, Turkey, Belgium, UAE, Azerbaijan, Cyprus, Italy, Norway, Switzerland, UK etc).
Montenegro net foreign direct investment in 2016 reached $755 million and investment per capita is one of the highest in Europe (according to the Montenegrin Foreign Investors Council White Book from March 2018).
Montenegro is one of the fastest growing destinations and an open economy country, rapidly climbing the bucket list rankings of foreign tourists. This is noticeable in the 2017 MONSTAT report, showing a 10,3% increase in foreign tourist visits compared to 2016 (w/ 11 953 316 overnight stays).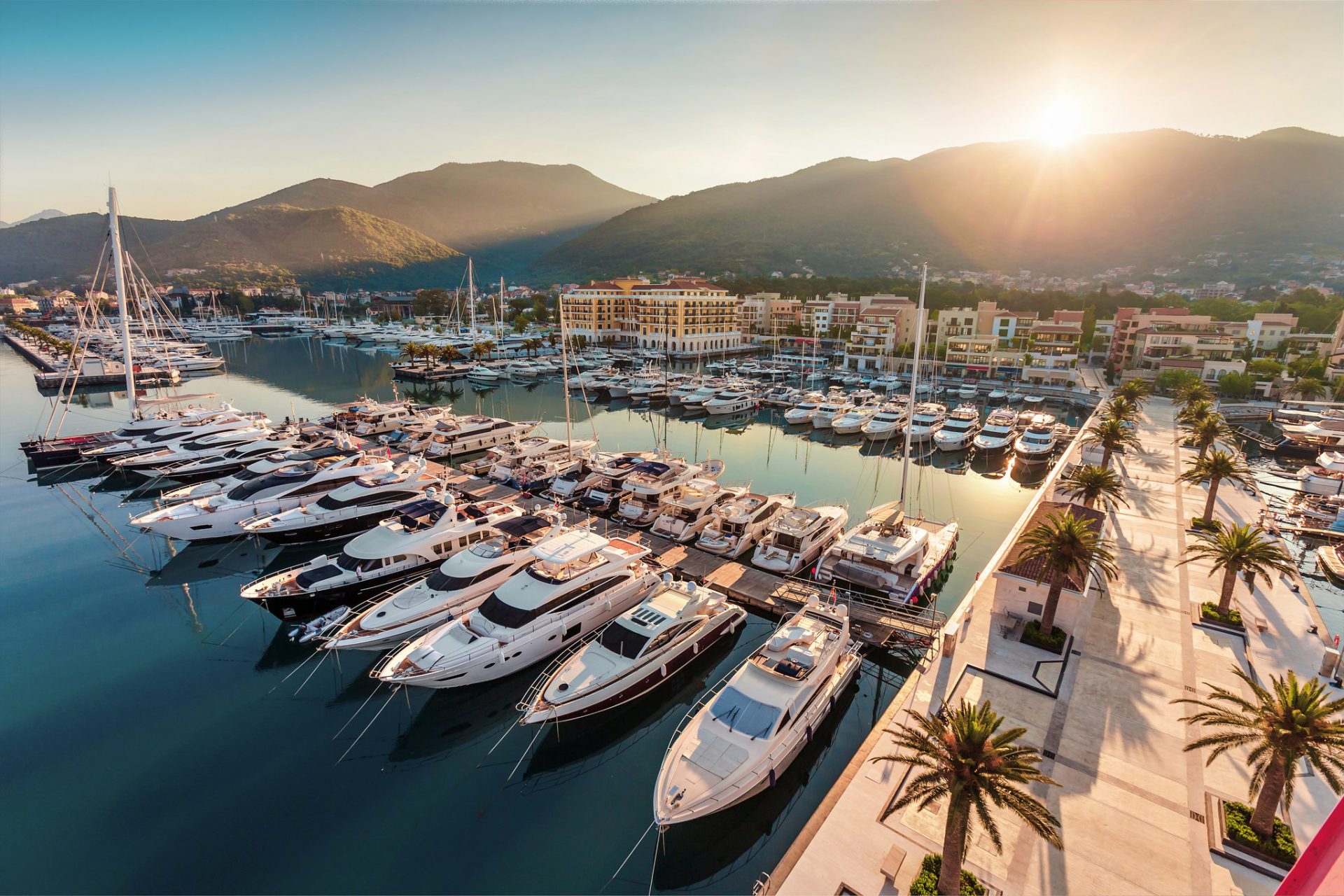 Whether your new home is in Podgorica or in Tivat, you can easily reach it by plane – Montenegro has two airports – one in the capital city, and one in Tivat, in the coastal part of Montenegro. Aside from the national air carrier, Montenegro Airlines other airlines flying to Montenegro are: Turkish Airlines, Air Serbia, Ryanair, WizzAir, Alitalia, Adria Airways, Austrian Airlines, Arkia Israeli Airlines, Israir, Easy Jet, Globus Airlines, Aeroflot. The number of different airlines and flights to Montenegro is constantly increasing. Montenegrin airports offer services for private or business aircraft as well.
When planning your new life in Montenegro, as one of the Mediterranean top destinations, you also want to think about starting or resuming your business. According to the Doing Business 2018 Economy Profile, Montenegro shows a 90.62 score compared to the best practices frontier (100) for starting a business. Procedures for putting up a business are getting more and more efficient, while the number of necessary licenses has been reduced.
You have a new home in Montenegro, but after 90 days you have to exit the country? Not anymore. According to the new Law on Foreigners (article 38), if you own a real estate in Montenegro, you can obtain a residence permit up to 12 months. The residence permit is issued by the Ministry, based on a completed and signed request form, personal documentation, as well as documentation proving your possession of a real estate (Certificate of Ownership, issued by the cadastre).
Buying a new home sometimes means starting a new life. Especially when you want to move to a new country. Montenegro is a truly a friendly state, also when it comes to foreigners who want to start a business. In that sense, the rules for any foreign legal entity or individual and citizens of Montenegro, are the same. According to the Foreign investment Law, a foreign investor in Montenegro may: establish an enterprise (alone or jointly with other investors); establish a foreign entity affiliate; acquire interest and shares in the legal entity; purchase an enterprise.
The corporate tax rate is at a flat rate of 9%.

After all mentioned numbers, percentages and laws, we shouldn't forget the most important thing that will help you not feel like a newcomer in your new neighborhood – PEOPLE.
Montenegrins are open, friendly and will share with you insights on how to fully experience the country and Montenegrin way of life.
Montenegro can offer you a very best of lifestyle and a true sense of home.
*before any legal procedure, consult the official webpages of the Government of Montenegro and respective Ministries